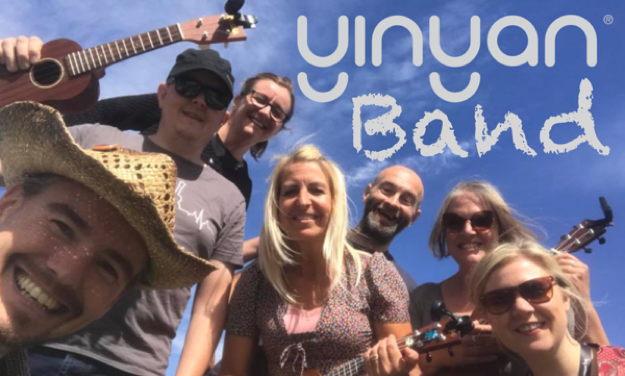 The YinYanBand is fun & friendly collective spreading joy & positivity through music & creativity! We started in 2018 by giving away ukuleles & crash courses (we don't call them as lessons as they're too much fun) which has created other bands and even performs at gigs, festivals & events.
Our sessions are a powerful way of reducing stress while boosting your brain power, wellbeing, community & creativity. Within 60 minutes of picking up a ukulele total beginners are playing songs they love, leaving any stress or worries far behind!
Public YinYan Band sessions are scheduled in Liverpool (at Tempest) on the 3rd Tuesday of each month – they're all listed on Eventbrite & Facebook, where you can learn more & book your place at a beginner crash course (or one of our clay modelling sessions). You don't need any musical experience, talent, ability or even a ukulele as we have ones you can borrow – and you don't need to book unless you want to borrow a ukulele!
Songbooks we use (if you're coming to a jam session it's handy if you've got a tablet/iPad – but we've always got some printed beginner books you can borrow):