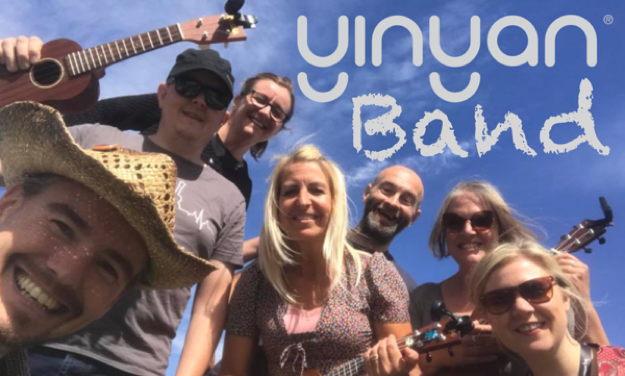 The YinYanBand is fun & friendly ukulele group who love to spread joy & positivity through music & creativity!
We started in 2018 by giving away ukuleles & lessons to people with no musical experience. Now we perform at all sort of gigs, festivals & events – visit & like our facebook page for all our latest shenanigans!
We also run beginner sessions and courses in the best workplaces. It's a powerful way of reducing stress while boosting your brain power, wellbeing, community & creativity – all thanks to the fantastic landlords we work with (including Capital & Centric & Bruntwood). Within 60 minutes total beginners are playing songs!
We announce public sessions on social media (use the links at the bottom of the page & don't forget to like our facebook page to be sure you don't miss out) otherwise our beginner sessions are private. When there's a session available to you, you'll be told what's happening by your landlord/employer…you don't need any musical experience, talent, ability or even a ukulele as we have ones you can borrow!
Check out the resources below and if you're interested in a YinYanBand performance/workshop/course please contact us.
YinYan are workplace wellbeing specialists, providing convenient & friendly ways to feel great – if it feels good, we're on it! Our yoga & pilates classes started in 2015, with the YinYanBand starting in 2018.