The YinYanBand is fun & friendly ukulele group for anyone who wants to play, learn or listen – everybody is welcome to experience this amazing way to reduce stress while boosting your brain power & performance, mood and…well it just feels good!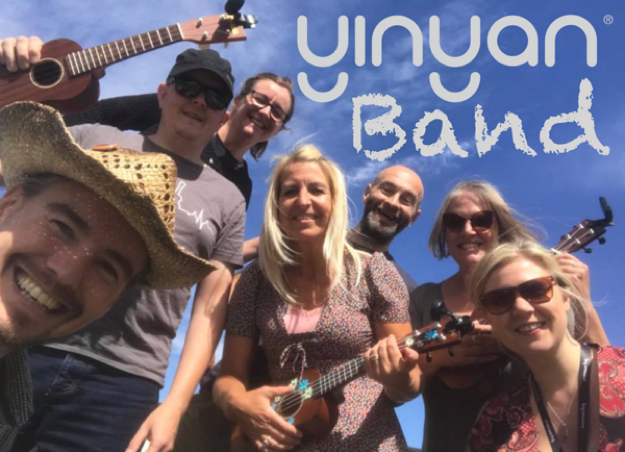 To find out where & when we meet, plus what songs we play and info on getting started, join our Facebook Group – the Facebook group is also the place to find all our song sheets, help for beginners etc, click on 'files' (some are at the bottom of this page too!)
Everybody is welcome to be part of the YinYanBand, and at our special beginner jam sessions there's usually ukuleles spare if you want to try – why wouldn't you?! We also play all sorts of gigs & events…also on the Facebook page or email [email protected] if you'd like us to be a part of your event.
Curious? Check out all the benefits of being in a band!  Download our YinYan basic skills starter tips here. You won't believe how easy it is to play hundreds, nay thousands of songs with a few basic chords – for more ukulele inspiration and to see a video compilation of a small selection of such songs click here!

YinYan are workplace wellbeing specialists, providing convenient & friendly ways to feel great – if it feels good, we're on it! Our yoga & pilates classes started in 2015, with the YinYanBand starting in 2017.