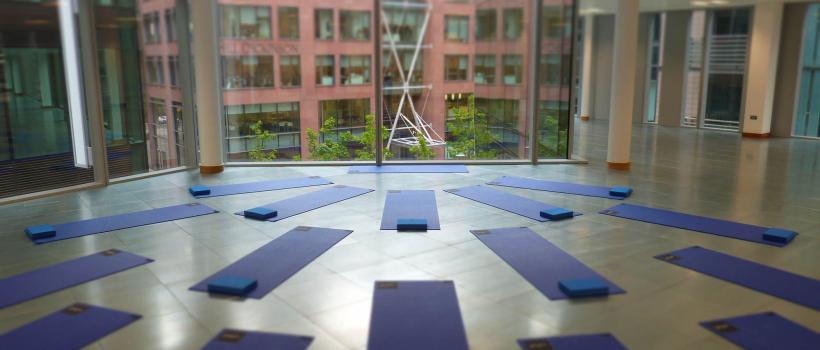 Corporate Wellbeing for businesses that mean business
YinYan's corporate wellbeing packages include beginner yoga, stress-busting meditations & mindfulness, tai chi, pilates, laughter yoga & more – we find out your goals and tailor a package for you to help your employees to be happy, healthy and fulfil their potential. In short we create happy, engaged & motivated staff!
We work with the best employers including Liverpool ONE, Communisis, Royal Court Theatre, Jackson Lees solicitors and NHS Urgent Care 24. Our bespoke corporate wellbeing packages range from one-off taster events & wellbeing weeks, to regular weekly sessions – currently classes are online, and when it's safe to do so our classes are held in a pop up studio in/near your building or in your own premises (if there's room).
Why employers use YinYan for Corporate Wellbeing
Employees are your business's most valuable asset and YinYan Classes improve their health and helps them feel great! You can expect to see improved satisfaction, performance and team dynamics, plus reduced absences, 'presenteeism' (where someone is in work but not as effective as they can be as they're not feeling mentally or physically well) and an improvement on your bottom line.
Our sessions tackle the biggest issues that employers face head on: Back, neck & muscle pain are the most common cause of sick leave, accounting for 31 million working days lost per annum (Office for National Statistics), followed by stress, anxiety & depression which account for 15 millions days lost pa. Even more significant is that Legal & General has found that presenteeism can cost employers three times more than sickness absence, and poor workforce wellbeing accounts for more than a quarter reduction in productivity.
The best employers know to attract and retain the best staff they have to take corporate wellbeing seriously.
What we do
In order to provide something that every single one of your staff can engage with – ensuring that your business gets maximum benefit – our sessions include:
Mindfulness – a highly effective technique that anyone can learn to be more present in any given moment.  The technique has been proven to help people deal with issues such as chronic pain and stress, making people happier, more focused on the task in hand and able to make better decisions under pressure.
Stress-Busting Meditations – guided sessions based on an ancient technique that helps the whole body and the mind to relax and recharge, so effective they have been adapted by the US Army to help military personnel deal with post-traumatic stress, so however stressful your workplace may be, it will help.
Yoga – our beginner focused sessions guide people through a series of easy to follow postures designed to stretch & strengthen the whole body with an emphasis on correct alignment & breathing, energising the mind for a productive day.  Where requested we tailor classes for men & women as this can improve engagement levels.
Pilates – pilates is a series of exercises to strengthen the crucial core muscles between the ribs and pelvis, helping to improve posture, it helps to get the whole spine and major joints functioning correctly, and it can be used to manage and prevent back & neck pain.
Tai Chi / Qigong – a martial art that is suitable for all fitness levels and can be practised in just about any clothing, connecting movement with the breath it gently opens up all the joints in the body and improves strength.
Exercise Sheets – in order to spread the wellbeing message to people who are not willing/able to make a class, we provide exercise sheets that people can use at their own convenience, including guidance on which ones are good for common issues such as lower back pain.
We also provide packages that provide help with healthy eating, nutrition, stopping smoking, and arrange for on site consultations with local osteopaths and physiotherapists.
What next
If you want to be a market leader in looking after your employees with minimal hassle in a surprisingly affordable way, call us on 0151 236 7620 or email [email protected] to find out how we can help your business succeed.

Yin Yan provide health and corporate wellbeing at work – with yoga, pilates, mindfulness, stress-busting meditations and more!