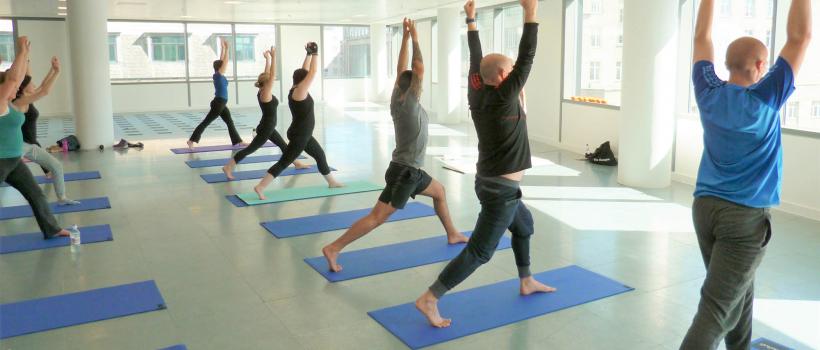 YinYan for Commercial Landlords, Surveyors & Property Advisors
We make voids work: Positive pop-ups that save money with surprising benefits.
Amenities, engagement and placemaking that redefine rates mitigation and the way you think about vacant or under-utilised spaces.
Minimal hassle and maximum benefit – it's what we do, all over the country. Our partners include the likes of Capital & Centric, Urban Splash, CEG, CBRE, Downing, Workman, Merseyside Pension Fund and many more.
Why work with YinYan?
Working with the best Landlords, Chartered Surveyors & Space Providers (see a selection of our venues) over 10,000 people have benefitted from our classes (Yoga, Pilates, Meditation & more) and workshops (such as Spinal Health & 'Meet Your Brain'). And there are plenty of other good reasons for bringing YinYan to your property:
Reduce Void Costs – we can help you manage your business rates, with substantial savings available (although we do not have to work on a rates saving basis), contact us to find out how much you'll save.
Engagement – we actively and positively engage with occupiers on your behalf, improving tenant relations and making your next tenant meeting and lease renewal that bit easier.
Amenities – wellbeing is a massive issue for employers/tenants, they value being somewhere with amenities to keep their staff healthy & happy, all without having to go far from their desk.
Marketing – YinYan is a good news story, we'll use our own media channels and work with any PR advisors to make sure everyone knows how good your building is.
Corporate Social Responsibility – we're all about doing the right thing.
Sustainability – 25% of the Global Real Estate Sustainability Benchmark GRESB score is from 'Stakeholder Engagement', so if you want to be sustainable that means making property work for the people who work there.
Professionalism – founded by an experienced chartered surveyor with nearly 20 years experience, we know the high standards that are required to work in the best properties, and we stick to them.
If you're a commercial property landlord or a chartered surveyor/asset manager, ask about making YinYan part of your asset management strategy – call 0151 236 7620, email [email protected] or fill in the form below.