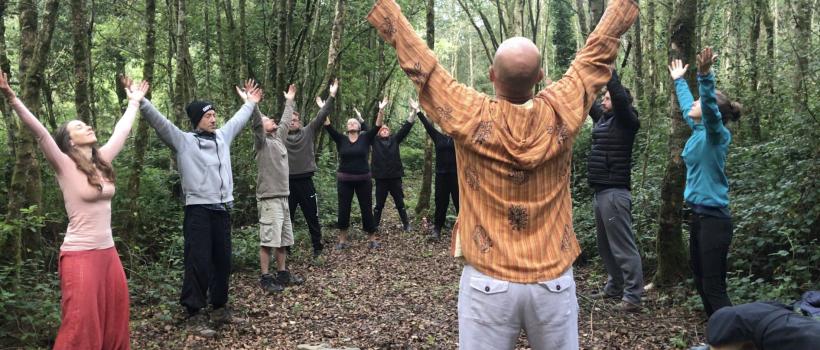 All-inclusive weekends in the Lake District & Wales dedicated to your health & happiness – SELLING OUT FAST!!
Our friendly & welcoming wellness weekends are THE place to look after your body with Yoga, Qigong, Pilates & Dance; relax & de-stress your mind through meditation, creativity & good times; all while enjoying delicious, hearty & 100% freshly prepared food & the healing power of nature in stunning locations.
Different weekends have different themes/teachers so there's something for everyone with a variety of yoga, relaxation, mindfulness, ukuleles, campfires, forest-bathing, wild-swimming/cold-water therapy, country walks & more. It's the perfect wellbeing tonic so pick a weekend (or more with 10% off your 2nd YinYan retreat, and another 10% off your 3rd), let's get together & let the good times roll!
Invigorating, uplifting & energising – Donna's feel-good, fun-filled Vinyasa Yoga, Pilates & dance will fire up your core, open your heart chakra & unleash your summer Yang energy…if in doubt just dance it out! We'll be balancing the high energy side of things with some Yin & slow flow yoga, guided relaxations (Nidra) & woodland wanderings – we predict some pop classics round the campfire so you're going to need plenty of energy! ***EARLY BIRD WEEKEND PASSES SOLD OUT*** just one yurt left & a few final release camping tickets available*** Click for full details.
A rejuvenating, rebalancing weekend for normal people (often with normal aches & pains) to harness the power of self-care to improve the quality of everyday life. Join us & yoga teacher extraordinaire, Frank Perry, as we dive into nature – and maybe the river too for some cold water therapy & wild swimming! ***SOLD OUT***
This weekend will leave you feeling healthier, happier & more relaxed as you unwind & reconnect with nature, people & yourself. We've got hatha, yin & vinyasa yoga classes, guided relaxations, wild swimming, woodland qigong, forest bathing, campfire jams, mindful drawing, a satsang & more. Yoga teacher trainer Stu Alexander will be joining the team at our Site of Special Scientific Interest in the Lake District. Find out more here.
Go deeper into your Yoga practice to understand & appreciate how it helps us feel healthier, happier & more balanced – improving our ability to thrive and overcome any challenge. There's so much more to Yoga than stretching & strengthening and with help from Elina (one of our London based teachers) we'll show you how ancient texts & Yogic philosophy can be harnessed to boost your mental & physical resilience right now. Join us to enjoy Asana, meditation, Qigong, workshops & the healing power of nature.
Join our end of summer jamboree on this 3 night bank holiday special – it's a veritable smorgasbord of ways to feel fabulous with Yoga, Qigong, meditation, belly dancing, foraging walk, creativity, musical performances, sing-songs round the campfire & delicious vegan food in a beautiful private woodland valley with some of the nicest people you'll ever meet. It's going to be fantastic and you don't want to miss this one!

Bookings, payments & cancellations
Weekend Pass (includes all classes, camping & food):

Early Bird (limited numbers, when they're gone they're gone!) – £185 per person in The Lake District / £195 per person in Wales
Final Release (full price) – £220 per person in The Lake District / £230 per person in Wales

Returning Customer Discount (weekend passes only) – if it's your second YinYan retreat get 10% off your Weekend Pass, and another 10% off your third retreat.
Yurt Surcharge (only available in the Lake District) – £240 per Yurt split by whoever is in it (e.g. for 2 people = £120 extra each; 3 people = £80 extra per person; 4 people = just £60 extra per person, etc)
40% deposit required to book your place, remainder due 1 week before the event.
If you want to borrow a ukulele for the weekend let us know and bring £30 deposit (fully refundable on return of undamaged uke – or you can take it home to keep!)
Spaces limited so early booking recommended to avoid disappointment.
Everything is included in the price EXCEPT for ukulele rental (£30 deposit) & Irma's treatments in the wellbeing tent (£20 for 40 mins) which are optional extras.
If we cancel the event for any reason (including Government restrictions) then you get the option of an alternative/rescheduled retreat at no extra cost (see all our planned weekends here, plus we have several 'fallow' weekends when nobody else is using the sites so we can reschedule retreats if necessary) or you can choose a full refund.
If you cancel 14+ days in advance you can choose an alternative retreat at no extra cost, or get a refund less cancellation charge of £30 per Weekend Pass & £95 per Yurt (which we will waive/reduce if we get someone else to take your Pass/Yurt). If you cancel less than 14 days before the retreat your deposit is non-refundable (unless we find someone to take your place, in which case we will refund you minus our costs).
Payments to our bank account – "Yin Yan Ltd", account number 45402817, sort code 60-13-19 – please include your name & retreat date (i.e. "Jane Smith 27 Aug") as the payment reference. For bookings/queries contact us / [email protected] / call Robin on 07912 031543.
Fire Pits
The communal fire pits are the beating heart of our retreats. A fire will always be burning so you can have a brew and warm your cockles anytime – then in the evenings we'll light more fires so everyone can feel the warmth (and Carter the hound always up for a cuddle!) We can't wait to be sitting round the fire as we laugh & sing together under the stars – it's so good for your soul.
Food & drink
All meals included in your weekend ticket. Delicious, hearty & healthy food (vegan) is provided for your lunch & dinner, think warming chilli, tasty curry & wholesome soups with fresh crusty bread – all freshly prepared onsite (and all anti-inflammatory too) your taste buds are in for a treat! Our kitchen is being run by Debs with profits going to Foodcycle Liverpool. If you have an allergy or special requirements let us know.
Fresh fruit (and toast in the Lake District) will be available to help yourself at breakfast, bring anything else you'd like in terms of a bigger breakfast/extra snacks. We provide compostable cups, plates, bowls & cutlery but please bring your own if you have them.
Our big kettle will always be on the fire because unlimited brews might just be the cornerstone of civilised society! A range of tea & coffee is provided, along with all your drinking water. We don't sell/provide alcohol but you can bring if you like – the emphasis is on having fun and enjoying yourself, and we're here to have a good time together not judge anyone.
Massage, Reiki & Foot/Hand/Face Reflexology
Option to enjoy a sumptuous 1-2-1 treatment (or two, you're worth it!) with Irma in the wellbeing tent – choose from Five Bodies Wellbeing 1-2-1 Treatment options in the magical healing gazebo (all in line with all the relevant covid guidelines). Just £20 for a 40 minute treatment – a total bargain, especially considering the rave reviews she always gets.
Pre-book by email [email protected] or book when you arrive. You'll need to fill in a form – it will help if you can print & bring with you (leave the green parts blank) but don't worry we'll have spares: Reiki form or Massage Form or Reflexology form – you decide! Sorry but Irma will not be at the Ukuleles & Yoga weekend 🙁
The Lake District glamping/camping venue
A beautiful meadow where birds sing, butterflies flutter, bluebells carpet the peaceful woodland and we camp beside the river that we share with the local otter & crayfish – when you see it you'll understand why it's SSSI (a Site of Special Scientific Interest). The meadow has space for tents – and two beautiful yurts if you like luxury while enjoying the great outdoors.
Our 'Big Top' parachute tent provides open sided weather protection all weekend, Irma's wellbeing tent is for private treatments (optional extra), and Chef Debs will be cooking up a 100% wholesome, hearty & delicious, freshly prepared feast in the kitchen tent (no packets & nothing nasty) all meals included.
There are plenty of places to sit and enjoy the campsite, river & woodland. There's a compost toilet, extra portaloos, a hot shower (or slightly cooler bathing in the river!) sink with hot water & kitchen cabin with fridge, kettle, toaster & microwave (all cleaned & sanitised daily).
Location is a private site outside the village of Grayrigg, not far from Kendal where the Lake District meets the Yorkshire Dales. Under 2 hours drive from Liverpool/Manchester and a 15 minute taxi from Oxenholme station (direct trains from London Euston in 3 hours).
If you prefer the warmth of a wood burning stove and a proper bed then treat yourself to one of the two yurts available, with each able to accommodate up to 6 people. The yurts come with their own shelter outside to give protection from the sun (and occasionally rain!)
Each yurt is 5m in diameter and has it's own a wood burner, all firewood included in the price. Both yurts have a double bed, a double day bed and a double sofa bed – only base sheets, pillows, pillow cases & hand towels are provided so bring your own snuggly bedding and towels.
The Welsh camping venue
The venue is a stunning private woodland valley with river, Pencwmcanol Woods, near Aberystwyth (SY23 5AS) in West Wales – over 30 acres so there's plenty of room to spread out with camping pitches for groups & lone rangers. It's wild – compost toilets & portaloos, no electricity, no running water (drinking water tanks provided, river for bathing) & limited phone reception.

For bookings & enquiries contact us / email [email protected] / call Robin 07912 031543.
Check out our past retreats:
Lake District Yoga & Pilates Summer Retreat
Friday 7th – Sunday 9th June 2019
😀🙏😌🧘🏻‍♀️🧘‍♂️🏊🏻‍♂️ 🔥🌳🌿⛰🐕🎶 💜
Join Robin Ellis & Donna Unwin (and #CarterTheRescueHound) for a weekend of yoga, pilates, tai chi, creativity & feel good fun for feeling refreshed & rejuvenated. The venue is a converted Barn with log fires, a beautiful garden, river flowing onsite & glorious views…just 1 hour 40 minutes (and a whole world away) from Liverpool & Manchester and 3 hours from London:
– 3 Yoga & Pilates classes, with some in the garden (hopefully!) 😎
– Morning garden Tai Chi
– Guided Meditations to fully relax & recharge
– Countryside walk
– Wild swimming with river meditation (optional but rewarding!)
– Saturday evening garden bonfire with ukulele-oke sing-a-long
– Delicious healthy food, all meals from Friday evening to Sunday lunch.
No experience is necessary, teaching styles are easy & inclusive. Take part in as little or as much as you like – it's your weekend!
Investment is £245 (based on sharing a room) or £295 if you want your own room. Call Robin 07912 031543 or email [email protected] for more info – we can't wait!