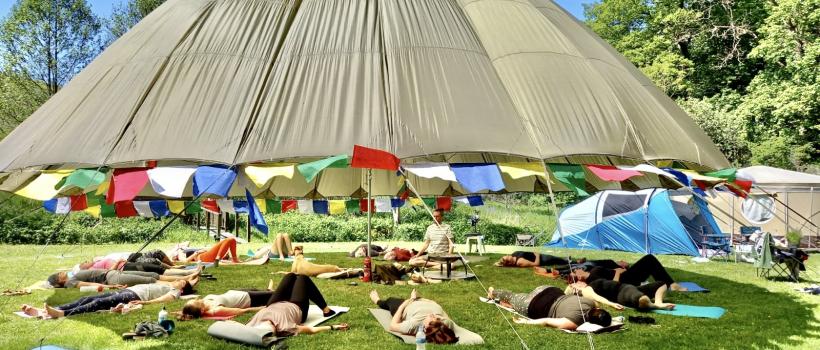 All-inclusive wellness weekends with Yoga, Nature, Music, Meditation, Mindfulness, Creativity, Dance, delicious food & more!
Our friendly & welcoming camping/glamping retreat weekends in the Lake District are the place to MOVE your body with yoga, qigong, dance & pilates. Relax & de-stress your MIND with meditation & mindfulness, MAKE memories, music & art as you MEET new & old friends around the campfire. All while enjoying delicious, hearty & healthy FOOD and feeling the power of NATURE in a stunning private woodland.
Our retreat weekends are all unique with a special guest teacher(s) joining YinYan founder Robin Ellis, his faithful hound Carter. Each weekend is a smorgasbord of feeling good, the perfect wellbeing tonic, so pick a weekend (or both) let's get together & feel good!
This year we've added the option of discounted "Long Weekend Helper Tickets" – you need to arrive 1 night early and help us out over the weekend, just a couple of hours setting up & packing down, plus a bit of washing up – you won't miss any classes though!
YinYan Wellbeing CIC is a Community Interest Company, classed as not-for-profit business because 100% of our profits have to go towards improving people's health & happiness – we like the fact that you can help yourself with our weekends, and you can help others at the same time.
Our last retreat of 2023 will be a feel good, end of summer extravagansa in our beautiful private woodland campsite in the Lake District – there will be plenty of delicious & healthy food, lots of friendly & accessible Yoga (Hatha, Vinyasa & Yin), Pilates, dance, awe-walks, woodland qigong, clay modelling, sketching, wild swimming, guided meditations for deep relaxation, plus we're going to teach you how to make sweet music on the ukulele & have more fun than you can shake a stick at.
This weekend is with Robin (and Carter the rescue hound of course!), plus our very own ray of sunshine 'Dancing-Donna' will get your blood pumping & Debs is providing the fabulous food as usual – it's a full spectrum of health & happiness, packed with ways to help your mind, body & spirit soar! Full details & bookings here.
Bookings & Contact
Book your place using the links above, for enquiries contact us [email protected] / call Robin on 07912 031543.
The Lake District glamping/camping venue
A beautiful meadow where birds sing, wild flowers carpet the woodland and we camp beside the river. Our 'Big Top' parachute canopy provides open sided weather protection all weekend, the camp kitchen will be serving up feasts from the kitchen tent. There's a compost toilet, extra portable toilets, a hot shower (or river!), sink with hot water & kitchen cabin with fridges, kettles, toaster & microwave.
Springwood campsite is just outside the village of Grayrigg, under 2 hours drive from Liverpool/Manchester. 15 minute taxi from Oxenholme station (direct trains from London Euston in 3 hours).
Food & drink
Delicious, hearty & healthy vegan food is provided for your lunch & dinner (or tea as we call it up North!), think warming chilli, tasty curry & wholesome soups – we've given up trying to describe how good the food is, it's just AMAZING and we're delighted that Debs from Bring Out Your Bowls will be delivering fantastic food again in 2023. Meat eaters don't worry, we only have big & satisfying meals, you will not be disappointed! If you have any allergy or special requirements let us know.
Fresh fruit, porridge, muesli and toast will be available to help yourself at breakfast, bring anything else you'd like in terms of a alternative breakfasts/extra snacks. We provide compostable plates, bowls, cups & cutlery but please bring your own camping utensils where possible (there's a sink to wash up).
A range of tea & coffee is included because unlimited brews might just be the cornerstone of a civilised society. We don't sell/provide alcohol but you're welcome to bring if you like – the emphasis of our weekends is having fun, we're here to have a good time together not judge anyone.
Fire Pits
The communal fire pits are the beating heart of our retreat – it's where we come together to bond, share stories, make music & memories…please bring your instrument if you have one – anything & everything welcome, and everyone gets their very own kazoo.
A fire will always be burning (all firewood included) so you can have a brew and warm your cockles anytime – in the evenings we'll light more fires so everyone can feel the warmth, and Carter the hound is always up for a cuddle! There will also be a fire ceremony. We can't wait to be laughing & singing together under the stars – it's so good for your soul.
Creativity
We believe creativity is a powerful way to feel good, and you'll experience it on our retreats. At every weekend you can try clay modelling and/or mindful drawing, and/or ukulele crash courses (no musical experience necessary) – we create a friendly & fun environment for beginners, then if you decide to have a go the magic really starts to happen!
Every retreat weekend includes optional beginner ukulele lessons, plus you can try singing/kazoo-ing. The ukulele is such an accessible &  joyful instrument, you'll be laughing your head off before you know it – and if you play any instrument please bring it!
There's going to be some wonderful dance sessions & some bonus musical performances throughout the summer too – as with all our classes & activities, you can join in with as little or as much as you like.
The Yurts
If you you don't want to bring your own tent and prefer the warmth of a wood burning stove and a proper bed then treat yourself to one of the two yurts available, with each able to accommodate up to 6 people. The yurts come with their own shelter outside to give protection from the sun (and occasionally rain!)
Each yurt is 5m in diameter and has it's own a wood burner, all firewood included in the price. Both yurts have a double bed, a double day bed and a double sofa bed – only base sheets, pillows, pillow cases & hand towels are provided so bring your own snuggly bedding and towels.
Parking & Campervans
Parking is available and we will direct you on arrival. To minimise our carbon footprint please car-share where possible, or consider public transport – Oxenholme train station is just 15 mins in a taxi. You can't drive onto the meadow but you only have to carry your things about 100m and trolleys are available. 
We can accommodate a limited number of campervans – although please note that due to a narrow gate these must NOT exceed transit sized vans (motorhomes are out, sorry). Please select 'Campervan' as an optional extra when making your booking.
Hazards, Dogs & Children
Carter (Robin's hound & YinYan's official head of wellbeing) will be there and we are proud to be a dog-friendly yoga retreat! If you would like to bring your dog please let Robin know in advance on [email protected] N.B. dogs MUST be kept on lead at all times, this is not negotiable as it is a requirement of the venue owners who have chickens & livestock roaming freely. 
Happy to discuss if you want to bring children especially as we've had great success with parent(s) & children (especially teenagers) enjoying our weekends together, contact us email [email protected] / call Robin on 07912 031543 to discuss before booking.
The venue includes a rocky river & working woodland – there are ditches, slopes, barbed wire & electric fences so please watch your step & sturdy shoes/wellies are recommended if the ground is wet. 
Bookings, payments & cancellations
Weekend Pass (includes all classes, camping & food):

£240 per person
£120 deposit required to book your place, remainder due 3 weeks before the event

Helpers Weekend Pass (includes all classes, camping & food):

£175 per person (£100 deposit)
You MUST arrive the day before to help us set up (3 hours), help us with some light kitchen & washing up duties over the weekend, AND stay until mid/late afternoon on the last day to help pack up (you're welcome to stay an extra night if you want!)

Optional Yurt – £260 to be paid in full when booking. One yurt booking can be shared by up to 6 people (up to the person booking/paying who they share with, if anyone – we do not allocate places in a yurt, whoever books a yurt gets to share it with whoever they like!)
All bookings & payments through WeTravel site via the links above/below:
If we cancel the event for any reason you get the option of an alternative/rescheduled retreat at no extra cost or you can choose a full refund. In the unlikely event that we do not have sufficient bookings (15+) to run a retreat then we will advise those that have booked at least 14 days in advance, offering a full refund or an alternative weekend.
If you cancel 14+ days in advance you can choose an alternative retreat at no extra cost (subject to availability), or get a refund less cancellation charge of £50 per Weekend Pass & £100 per Yurt (which we will waive/reduce if we get someone else to take your place).
If you cancel less than 14 days before the retreat your deposit is non-refundable (unless we find someone to take your place, in which case we will refund you minus our costs or transfer you to an alternative weekend).
Tent (unless you're in a yurt)

Sleeping bag & pillow/cushion, the nights might be chilly and an extra blanket is great for the meditations & keeping cosy around the fire pits (N.B. the yurts only have pillows & sheets)

Yoga mat & block – if you need to borrow/buy a mat let us know

Camping mug, plate, bowl & cutlery (we have disposables if you forget)

Snacks, drinks & anything you want for breakfast (there is a small fridge)

Toiletries including anti-bacterial gel & anything else you need such as wet wipes (we will provide toilet paper, hand sanitiser & antibacterial wipes around the site)

Footwear – wellies/boots/sturdy trainers (it might be muddy), bring a pair of old trainers to use in the river if you're planning on getting wet as it is rocky & uneven

Clothes – hope for the best but prepare for the worst with a waterproof jacket, fleece/warm jumpers, plenty of layers, spare socks etc. & bring clothes you can move freely in for yoga

Towel & swimming costume if you're planning on bathing in the river or enjoying a warm shower!

Headtorch / light for your tent

Sun hat, sunscreen & sun glasses – we live in hope!

Phone/camera/battery pack – useful to keep your phone charged so you can take lots of photos/videos, although there is a plug if you need a battery boost

If you play an instrument please bring it for the camp fire sing-song!

Chair (there are benches & logs to sit on too)

Carrier/rubbish bags – great for wet clothes & refuse…please take everything with you & leave no trace!
Check out our past retreats: