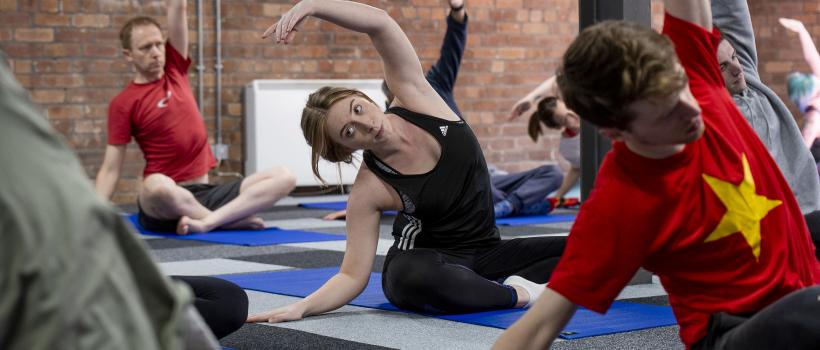 Wellbeing in Liverpool's coolest offices
Thanks to award-winning regeneration specialist Urban Splash, we are thrilled to be back with 2 onsite classes every week in the Vanilla Factory (room 310):
Tuesday 1.10pm (40 mins) – Hatha Yoga Flow w/ Emma. This popular flowing vinyasa class incorporates alignment, strength work, breathe awareness, stretches, balance and finally relaxing (our favourite bit!)
Thursday 1.10pm (40 mins) – Pilates w/ Jen. A very friendly & welcoming class for all levels (including beginners) with a focus on core strength as you control your breath & movement to fire up your abs. Good for spinal support, posture & alignment.
£5 per person per class – cash only, please bring the right money if you have it.
Classes only open to Vanilla & Tea Factory tenants and their staff – the Teacher will be at the Vanilla Factory entrance (Fleet Street) 2 mins before class start time to give access to Tea Factory tenants – please be on time!
Bring your own mat or borrow one of ours – please arrive changed & ready (wear anything you can move freely in). Class will start & finish on time – just bring yourself and a bottle of water!
Classes are open to all levels, including beginners, please discuss any medical conditions with your teacher prior to class or email [email protected].
These group classes are not suitable for everybody though – some conditions require specialist modifications, understanding & training – for example these classes are NOT suitable if you are pregnant. You MUST discuss any medical condition, illness and/or injury with us & your teacher prior to class. If in doubt use caution and seek advice from your GP.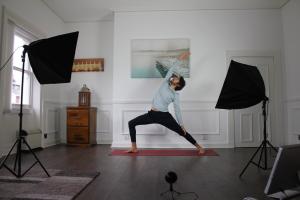 Online classes – live & on demand
In addition to the above onsite classes everybody who works in Tea Factory & Vanilla Factory & all Urban Splash staff also get UNLIMITED FREE access to our online classes – Yoga & Pilates (all levels), Qigong, Chair Yoga, Core Power Workouts and more. To sign up tenants should:
1) Visit https://www.yinyan.co.uk/yinyan-login/ & "Create Account" (don't forget to include your mobile number as we text you link to your class 20 mins before it starts).
2) Email [email protected] with your name & email address (the same one you used to create your account) & tell us who you work for in Tea/Vanilla Factory…we'll credit you with unlimited FREE classes so you can feel good wherever you are with these classes:
How to Access Online Classes
Bookings close 20 minutes before the class starts. Your teacher will text you a link / Zoom Meeting ID & password before class, then go to www.zoom.us/join and say hello – bonus if you have a Zoom account/download the app but you don't need to pay anything. It's live & interactive so you can see & hear the teacher – and can communicate with them.
– Find a space you can practice & roll out your yoga mat, blanket or rug – it's useful to have a block or cushions handy (beginners & anybody who has had back/knee problems should sit on these for all seated postures).
– Balance your laptop, tablet, phone or TV where you can see it – it's really useful for the teacher to be able to see you during class but everybody else can see you too so you can switch your camera off if you like.
– Live & interactive classes are amazingly similar to normal classes, you can see friends and make new ones – nice people getting together to do stuff, just like normal.
– Feel free to set up your own back ground music if you like.
– Just do what you can as gently as you like – if anything doesn't feel right just miss it out!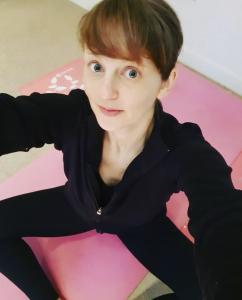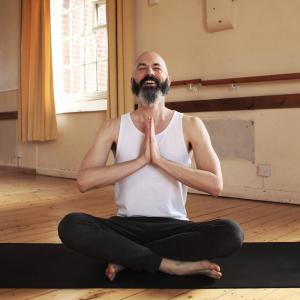 Any query email [email protected]. We do not offer refunds but please contact us if you are dissatisfied for any reason. See our T&Cs for further details.