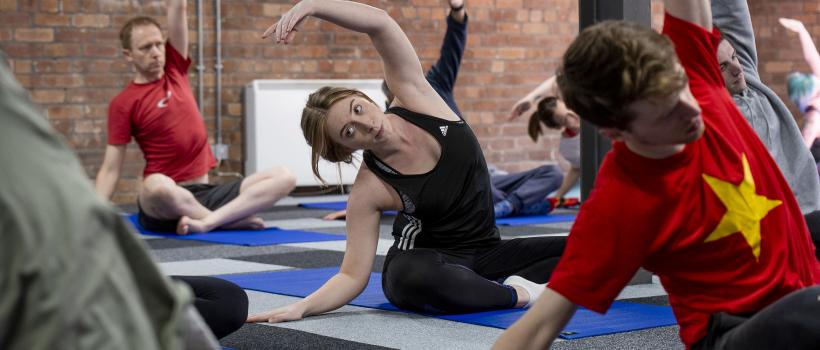 Yoga & Pilates for Urban Splash tenants
Vanilla Factory, 39 Fleet Street, L1 4ER
If you work in the Vanilla Factory or Tea Factory, thanks to Urban Splash, you can feel healthy & happy by joining our friendly & convenient Yoga & Pilates classes (suitable for all levels, beginners welcome):
YOGA Mondays 12.10 – 12.55pm. Energise your whole day with this popular class – no afternoon-slump for you! There will be a short warm up followed by a series of guided postures (clear and full instructions will be provided for all levels) that will work your whole body and leave you feeling refreshed & relaxed after a short relaxation.
PILATES Thursdays 12.45 – 1.25pm (40 mins). Use controlled, flowing exercises & breathing to develop a strong core that will support good posture & alignment. You will be encouraged to workout as hard or as gently as you feel is appropriate for you in this mat based pilates class.
Classes take place in Vanilla Factory – the instructor will be at the entrance 2 mins before class, to enable Tea Factory tenants access to the building – please arrive promptly.
£4 per class, cash only on the day. Mats are available to borrow or bring your own. Wear clothes you can move comfortably in and bring a bottle of water.
Please note that this venue is only open to people who work in Vanilla Factory & Tea Factory – if you're office isn't based there then maybe it should be?!
Please note that these classes are NOT suitable if you are pregnant. If you have any queries, about injuries/medical conditions or anything else, contact us and be sure to speak to your teacher before class…we need to know so we can look after your health!