..and not only for the kids! It's time for you to get back to class too!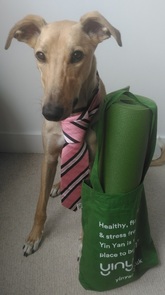 It's back to class for our head of Wellbeing, Carter! Doesn't he look smart in his obligatory 'new uniform and first day of class' picture?
This time of year is full of new beginnings and looking ahead – and wondering where summer went as you look at your alarm the first morning after your holiday! As children are taken back to school for a fresh school year full of anticipation for the year ahead, why should you stop learning or improving just because you are an adult?
It's the perfect time to get yourself into a healthy & convenient routine so make a positive change in your life and book onto one of our Yoga, Pilates or Metafit classes for the week ahead!
You can use our swanky new class booking page on our website – do it now and put it in your diary and before you know it, you'll be feeling happy and healthier!
There's nothing more satisfying or rewarding than knowing you've done something to improve your health before you go home after work – a bit like completing your homework before you even get home, it feels so good and should leave you with a spring in your step, right up until your next Yin Yan class!
We promise you will notice a big difference in your overall health & wellbeing if you join us at any one of our locations around town – we'd love to see you in class!
You can choose to tick your wellbeing box by joining the early birds before work every Tuesday, on our rooftop garden (or if the British weather isn't behaving then inside) at Tempest on Tithebarn St. Or, if you're not quite ready for an early morning alarm call, come along during your lunch break, or after work at Exchange Flags, 20 Chapel Street or the beautiful Port of Liverpool Building?
​We've also got some exciting new classes and venues on the way soon – so stay tuned for further announcements this week!
We have a range of classes with friendly and welcoming teachers, there's something suitable for all levels of experience – and all our public classes are open for everyone to attend! All you need is yourself and your 'PE kit'.
You have the option to buy either a single class, a 3, 6 or 10 class pass, or our popular monthly rolling (with no yearly tied in contract) automatic payment of just £40 per month which will allow you unlimited use of all our fabulous classes across the whole month!
​
We also have great introductory offers for any newbies too – so if you have a friend who hasn't been to our classes yet, do them a favour and forward them this email, or tell them to find our Twitter & Facebook pages!
It's now even easier to book your mat and check out our new class schedule with class booking options on our website – we'd love to know what you think of the new layout?
Or if booking online isn't your thing then you can email us at [email protected] or call 0151 236 7620
It couldn't be easier to keep healthy at work, we are on your doorstep!
We'll see you soon!
Your Yin Yan Team