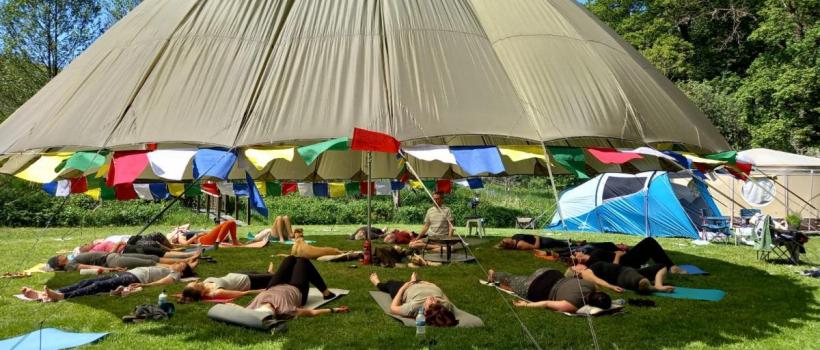 ***JOIN OUR END OF SUMMER CELEBRATION – ONLY A COUPLE OF SPACES LEFT***
Feel good in every way with Yoga, Dance, Music, Creativity, Meditation & Nature at our end of Summer Wellness Retreat
Our last retreat of 2021 is Friday 3rd to Sunday 5th September, and it includes the best bits of all our open air retreats this summer:
Guided MEDITATIONS & gentle YIN YOGA for relaxation & rejuvenation;
Energetic VINYASA YOGA & DANCE to get your blood pumping (or not – you do as little or as much as you like on our weekends!);
RECONNECT WITH NATURE in a stunning location with morning QIGONG, FOREST-BATHING & WILD SWIMMING; plus,
Feel the power of creativity with YIN-YAN-BAND campfire sing-a-longs, and optional  UKULELE CRASH COURSE & MINDFUL DRAWING session; plus,
All your delicious & healthy, freshly prepared MEALS ARE INCLUDED in your ticket!
We're chuffed to bits that 'Dancing Donna' is joining the rest of the team for this weekend – Yin Yan founder Robin, plus Damian, Irma, Deb & Angie – we can't wait to welcome you to what promises to be a festival of feeling flippin' fantastic!
We pride ourselves on making our retreats accessible, friendly & enjoyable for everybody – let's get together & feel good! Arrival from 2pm on Friday (group welcome 5pm), and departures anytime Sunday afternoon (weekend schedule below).
***BOOK BEFORE 10th AUGUST FOR 15% EARLY BIRD DISCOUNT*** Contact Robin on 07912 031543 or [email protected]
Our Lake District Glamping/Camping Venue
A beautiful meadow where birds sing, butterflies flutter, wildflowers carpet the peaceful private woodland and we camp beside the river we share with the resident otter – when you see it you'll understand why it's SSSI (a Site of Special Scientific Interest). The meadow has space for tents – and two beautiful yurts if you like luxury while enjoying the great outdoors.
Our 'Big Top' parachute tent provides open sided weather protection all weekend, Irma's wellbeing tent is for private treatments (optional extra), and the kitchen tent will be cooking up a 100% wholesome, hearty & delicious, freshly prepared feast in the kitchen tent (no packets & nothing nasty). All meals included in your weekend ticket.
There are plenty of places to sit and enjoy the campsite, river & woodland. There's a compost toilet, extra portable toilets, a hot shower (or slightly cooler bathing in the river!) sink with hot water & kitchen cabin with fridge, kettle, toaster & microwave (all cleaned & sanitised daily).
Location is a private site outside the village of Grayrigg, not far from Kendal where the Lake District meets the Yorkshire Dales. Under 2 hours drive from Liverpool/Manchester and a 15 minute taxi from Oxenholme station (direct trains from London Euston in 3 hours). Detailed directions at the bottom of this page.
The team – dedicated to helping you feel fantastic
Our mission is for you to have the best weekend of your life! YinYan founder, Robin Ellis is leading this retreat with support from Donna Unwin (Yoga, Pilates & Dance master general), Damian Lyons (Yoga, Meditation & Qigong teacher), while Angie/Debs are leading the kitchen tent (your taste buds & tummies are in for a treat!) and Irma is looking after you in the healing tent.
Robin found Yoga, Pilates, Meditation when dealing with chronic pain after spinal surgery – he became a teacher and in 2015 his passion for giving normal people the chance to experience the mental & physical benefits for themselves led to YinYan. His classes are very inclusive, giving beginners the perfect place to start & more practised students advanced options in line with key principles.
Donna discovered Yoga & Pilates as a dancer, using it to help with injuries, strength, flexibility & mental health. She trained in India and teaches in studios, schools, universities & corporates – her style is creative & fun and her philosophy is life should be a moving meditation that brings joy, balance and perspective.
Irma is a Complementary Therapist who loves helping people and embraces healing for herself and everyone who crosses her path! With healing and massage therapies (£20 for 40 mins) she brings balance & harmony to your world, helping you to heal & recover while you experience comfort, vitality & relaxation – further info on treatments below.
Food & Drink
All meals included in your weekend ticket. Delicious, hearty & healthy food is provided for your lunch & dinner, think warming chilli, tasty curry & wholesome soups with fresh crusty bread – all vegan, freshly prepared onsite (& anti-inflammatory too!) honestly your taste buds & tummies are in for a treat! If you have an allergy or special requirements let us know.
Both lunches & evening meals served from the kitchen tent, plus breakfast you can enjoy whenever you like in the kitchen cabin (fresh fruit, toast & jam and/or porridge – semi skimmed, almond & oat milk provided), plus a selection of tea (green, peppermint, camomile, redbush & tetley) & cafetiéres of fresh coffee on hand to enjoy anytime.
The kettle will always be available (on the fire or the electric one in the kitchen cabin) because unlimited brews might just be the cornerstone of civilised society! We don't sell/provide alcohol but you can bring if you like – the emphasis is on having fun and enjoying yourself, we're here to have a good time together not judge anyone.
Bring your own cups/plates/cutlery, or use our composting disposables. We ask that you don't bring your own camping stoves unless you have a heatproof table to raise them up away from the ground to protect the lawn – there's an open fire if you want to make something, plus a kettle, microwave & toaster in the kitchen cabin.
Fire Pits
The communal fire pits are the beating heart of our retreat. A fire will always be burning (all firewood included) so you can have a brew and warm your cockles anytime – in the evenings we'll light more fires so everyone can feel the warmth, and Carter the hound always up for a cuddle! We can't wait to be toasting marshmallows round the campfire as we laugh & sing together under the stars – it's so good for your soul.
Bookings Payments & Refunds for cancellations
Weekend Ticket (includes all classes, camping & food):

*** EARLY BIRD – BOOK BEFORE 10th AUGUST *** – £185 per person 
Final Release  – £220 per person

Returning Customer Discount (weekend tickets only) – if it's your second YinYan retreat get 10% discount on your Weekend Ticket, and another 20% off your third!
Yurt Surcharge – £240 per Yurt split by whoever is in it (e.g. for 2 people = £120 extra each; 3 people = £80 extra per person; 4 people = just £60 extra per person, etc)
40% deposit required to book your Weekend Ticket & Yurt, remainder due 1 week before the event.
Spaces limited so early booking recommended to avoid disappointment.
If we cancel the event for any reason (including Government restrictions) then you get the option of an alternative/rescheduled retreat at no extra cost or you can choose a full refund.
If you cancel 14+ days in advance you can choose an alternative retreat at no extra cost, or get a refund less cancellation charge of £30 per Weekend Pass & £95 per Yurt (which we will waive/reduce if we get someone else to take your place). If you cancel less than 14 days before the retreat your deposit is non-refundable (unless we find someone to take your place, in which case we will refund you minus our costs).
Payments to our bank account – "Yin Yan Ltd", account number 45402817, sort code 60-13-19 – please include your name & retreat date (i.e. "Jane Smith 2 July") as the payment reference. Everything is included in the price EXCEPT for Irma's treatments in the wellbeing tent (£20 for 40 mins) which is an optional extra. For bookings/queries contact us / [email protected] / call Robin on 07912 031543.
Massage, Reiki & Foot/Hand/Face Reflexology
Option to enjoy a sumptuous 1-2-1 treatment (or two, you're worth it!) with Irma in the wellbeing tent – choose from Five Bodies Wellbeing 1-2-1 Treatment options in the magical healing tent (all in line with all the relevant covid guidelines). Just £20 for a 40 minute treatment – a total bargain, especially considering the rave reviews she always gets.
Pre-book by email [email protected] or book when you arrive. You'll need to fill in a form – it will help if you can print & bring with you (leave the green parts blank) but don't worry we'll have spares: Reiki form or Massage Form or Reflexology form – you decide!
The Yurts
If you prefer the warmth of a wood burning stove and a proper bed then treat yourself to one of the two yurts available, with each able to accommodate up to 6 people. The yurts come with their own shelter outside to give protection from the sun (and occasionally rain!)
Each yurt is 5m in diameter and has it's own a wood burner, all firewood included in the price. Both yurts have a double bed, a double day bed and a double sofa bed – only base sheets, pillows, pillow cases & hand towels are provided so bring your own snuggly bedding and towels.

Weekend schedule
FRIDAY 2nd JULY
2pm onwards – Arrivals & settle in with a brew / massage
5pm – Group welcome
5.30pm – Yoga with Donna (60 mins)
6.45pm – Dinner
7.30pm – Campfire / YinYanBand / massage
SATURDAY 3rd JULY
7.30am – Qigong in the woods with Damian (30 mins)
8.30am – Breakfast
9.30am – Vinyasa Flow Yoga with Donna (90 mins)
11am – Ukulele crash course / chill / massage
12.30pm – Lunch
1.30pm – Wild swimming / Forest bathing / Mindful drawing / chill / massage
3pm – Dance it out with Donna (60 mins)
4.15pm – Yin Yoga & Yoga Nidra meditation for deep relaxation with Robin (75 mins)
5.30pm – Free-time / massage
6.30pm – Dinner
7.30pm – Campfire karaoke / YinYanBand / massage
SUNDAY 4th JULY
8am – Qigong in the woods with Damian (30 mins)
9am – Breakfast
10am – Slow Flow Yoga with Donna (60 mins)
11am – Free time / massage
11.45am – The Last Dance (30 mins)
12.30pm – Lunch & departures
Parking
Parking is available and we will direct you on arrival. To minimise our carbon footprint please car-share where possible, or consider public transport – Oxenholme train station is just 15 mins in a taxi. You can't drive onto the meadow but you only have to carry your things about 100m and trolleys are available if you need them.
Covid-19
All classes, activities & treatments will be run in line with government advice & relevant local guidelines at the time. At some points you may see some PPE, for example when people are serving food – you do not have to wear a face covering but it is optional for the treatments in the wellbeing tent (regulations subject to change). Please help to keep everyone safe by:
Using the anti-bacterial hand gel supplied (and bring your own) & the hand washing station…especially before & after eating & when filling up your water bottles
Please stay out of the kitchen area unless asked – if you need something just ask
When being served food follow the instructions given
We will clean the compost toilets & drinking water stations several times a day
Respect others & the relevant guidelines at all times
Hazards, Dogs & Kids
The venue includes a river & working woodland – there are ditches, slopes & hazards so please watch your step & sturdy shoes/wellies are recommended. Carter (Robin's hound & YinYan's official head of wellbeing) will be there – if you would like to bring your dog please contact Robin on 07912 031543 (they MUST be kept on lead at all times). Happy to discuss if you want to bring children, just get in touch 🙂
Suggested Packing List
Tent (unless you're in a yurt)
Bed/sleeping mat
Sleeping bag & pillow/cushion, the nights might be chilly and an extra blanket is great for the meditations & keeping cosy around the fire pits (remember the yurts only have pillows & sheets)
Water bottle
Yoga mat & block – if you need to borrow/buy a mat let us know
Camping mug, plate, bowl & cutlery (we have disposables if you forget)
Snacks & drinks you want (there is a communal fridge)
Toiletries including anti-bacterial gel & anything else you need such as wet wipes (we will provide toilet paper, hand sanitiser & antibacterial wipes around the site)
Footwear – wellies/boots/sturdy trainers (it might be muddy), bring a pair of water shoes/old trainers to use in the river if you're planning on getting wet as it is rocky & uneven
Clothes – hope for the best but prepare for the worst with a waterproof jacket, fleece/warm jumpers, plenty of layers, spare socks etc. & bring clothes you can move freely in for yoga
Towel & swimming costume if you're planning on bathing in the river or enjoying a hot shower!
Headtorch / light for your tent
Hat & scarf
Sun hat, sunscreen & sun glasses
Phone/camera/battery pack – useful to keep your phone charged so you can take lots of photos/videos, although there is a plug if you need a battery boost
If you play an instrument please bring it for the camp fire sing-song – ukuleles, guitars, drums, kazoos & triangles all welcome!!
Chair (optional – there are benches & logs to sit on too)
Carrier/rubbish bags – great for wet clothes & refuse…please take everything with you & leave no trace!
For bookings & enquiries contact us / email [email protected] / call Robin 07912 031543.
Directions to Springwood Camping
Springwood is a private campsite outside the village of Grayrigg, not far from Kendal in Cumbria. Under 2 hours drive from Liverpool (or a 15 minute / £15-20 taxi from Oxenholme/Kendal station).
The postcode is LA8 9BL – please note this postcode covers around 15 houses spread across 1km, it (depending on your satnav) usually takes you to 3 houses with a private drive off the A685, you want "SPRINGWOOD CAMPING" the white gate on the opposite side of the main road (A685) from this private drive. Click here for google maps location pin showing the gate – or use the 'what 3 words' location here.
There are two gates off the main road ('x' marks the spot on the green road, A685, on the map), use the one with "Spiringwood Camping" signs & room to pull up off the main road to get out & open the gate, PLEASE CLOSE THE GATE BEHIND YOU AND DRIVE SLOWLY (there are people, animals & children roaming so please be considerate) – drive past the house & goats, stop by the white Campervan next to the barn entrance/foot bridge where we will welcome you.
Check out our past retreats: